"My body is a manufacturing plant of poetry & action"
Kamil Guenatri is both Performance Artist and Poet - a montage of the physical, the intellectual & the spiritual. His work demonstrates a great courage - confronting the world, face to face, with his truth. In Kamil's performance art we admire his attitude of not taking shelter in feeling sorry for his body. And intellectually, in the shelter of rationally. But through courage and hope to assert ones freedom from all of this.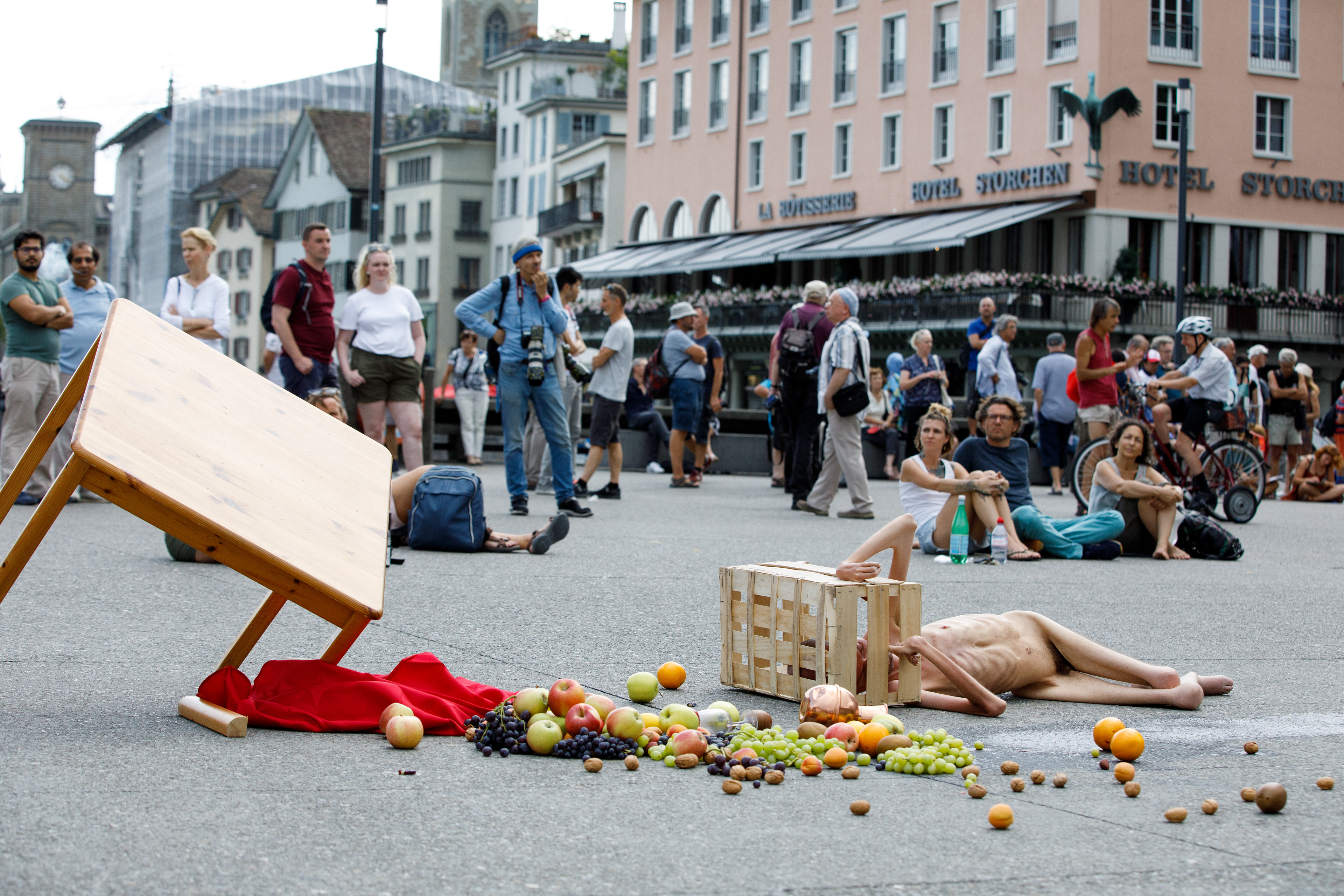 How do we apprehend the social body. This is not the perfected body of the dancer or the gender fluid body to challenge our pre-conceptions. Kamil is ahead of us as his mind performs in his social sculptures which articulate other dimensions. The Body and Freedom Performance Festival in Zürichhe, as shown in the image above, shows this. The casual audience collide with this constructed unity of body, mind and matter. How do we apprehend this social sculpture, with things of the everyday - a table with fruit & nuts disrupted and the body in a literal state immobility. This is the the confronting nature of real Performance Art.
In "Corpulences" we see the constructed perfect symmetry in the vertical dimension and the naked body, marked by age and disease, on the horizontal. Photos of his body are used to create a graphic image of idealised human perfection. In his own words; "I deconstruct physical standards and shine a light on the diversity and richness of our interior states". I see in this work the beauty of mind in the striving for human perfection.
In this work, "machine à coudre" with multi-coloured string which emerge from his brain to different spatial directions, I begin to understand his statement ...."To create a harmonious logic like the uncontrollable and fatal organisation of the world and the stars". I see the coloured wool as his connection to the known universe of things which his mind is processing and creating.