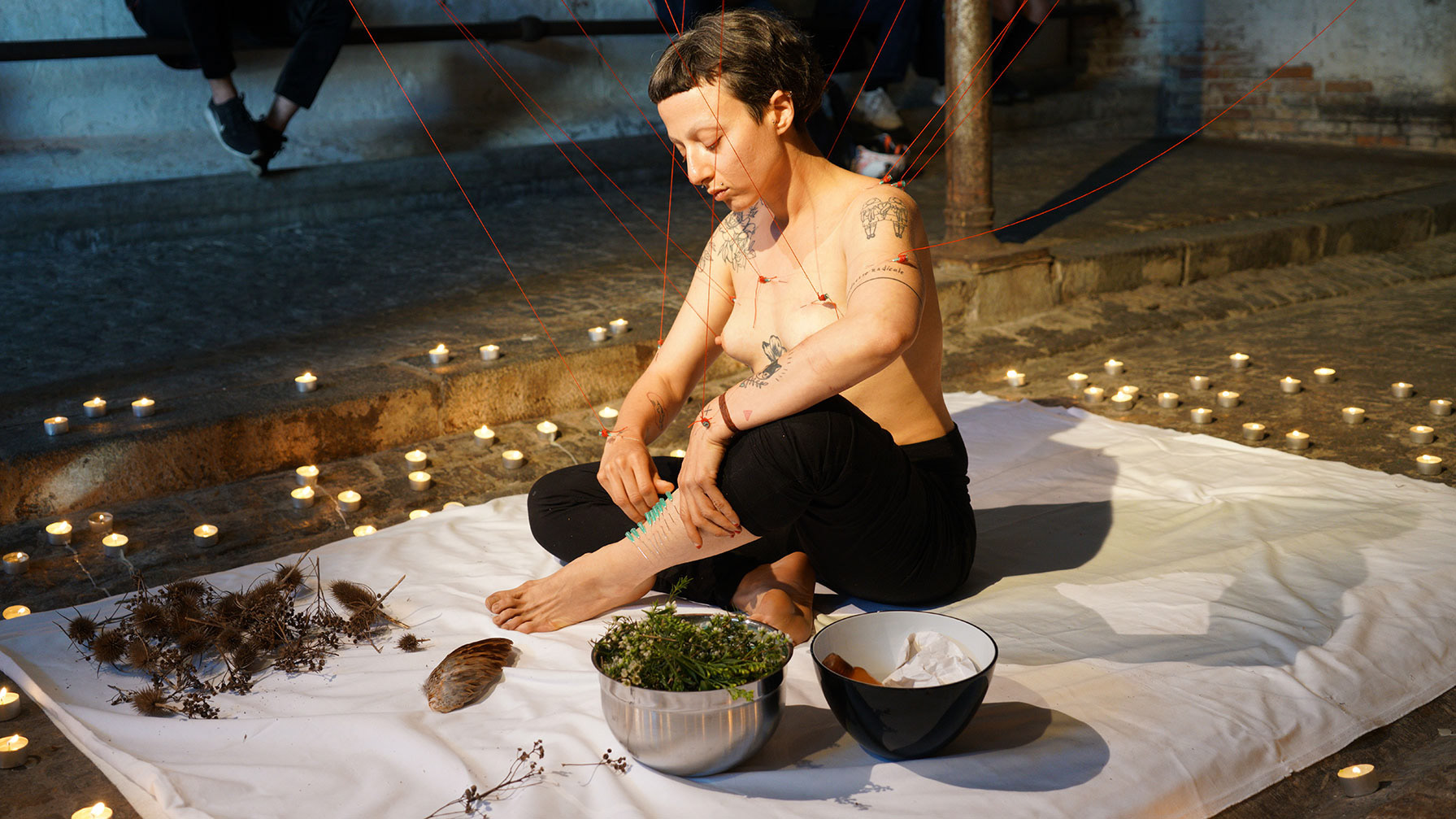 A 140 year old slaughterhouse in Copenhagen is where Leman performs her "Waiting". Looking at the architecture of this place, it is purpose built to slaughter animals with polished stone floors to drain blood and waste. 
This is Turkish Performance Art at its best. Leman has a strong body of work which is grounded in Turkish culture; from the genocide against the Armenian people of last century to contemporary queer politics. I see in Leman's work a redemptive power; an awareness of what has gone wrong in the world, what has caused this and asking the hard question - what do we do to make things right. It looks to a better world where we as individuals have sensitivity towards each other. In this way, Leman's Performance Art makes a significant contribution to civilised society, her truth - its is only through pain that we rid ourselves of our cultural stupidities.
In Copenhagen we walk into Warehouse9 into this highly charged physical site to witness Leman's "Waiting" performance. We see her in the middle of the room sitting on a white cloth which as various flowers and plants spread around. We also see that she is suspended, puppet like, from the ceiling by up to 14 needles inserted into her body, which are attached by string and ropes, to the ceiling. She is able to move from her sitting position, but with difficulty. There is connection with the audience, but this does cause her pain. For example, when someone passes by the backside door, she deliberately stabs her leg with a needle. In this way, it becomes a collective ritual as we the audience have a direct link to her. As we navigate through this 2 hour performance, we must decide if we will cause her pain or empathise with her and collectively "exhale together". This performance and Leman's work in general has a redemptive power which forces us to reflect on how we as individuals cause pain and suffering in others. 

Earlier works like "Love TR" (2016), demonstrate a powerful connection between performer and audience in the Live Art context, where audience members can participate in the work. We are given ropes which are stitched to the needles stabbed to her chest, (as a heart and a symbol of the Turkish Republic). And we are asked, "You can cause to more pain or you can heal me". This vulnerability brings us closer into what Leman may be feeling/thinking. The audience responds by demounting the needles and dressing the wounds.
Leman's reference to the Turkish Republic is succinct: "It's not the sovereigns who hurt us, it's us, the society.  We can heal each other pains, wounds or we can just keep going on the routine that would makes all the hateful, painful system work". This performance is very much a metaphor for this.